We can finally say it, summertime is right around the corner. Summer means beach and pool time, relaxation, and of course, ice cream! Though we certainly can say that we've enjoyed ice cream all winter long, as well. So, you might be wondering, which ice cream bars can I grab at Costco and stock up for my next BBQ?
Costco offers several ice cream bar options including IMEI Brown Sugar Boba Ice Milk Bars, Healthy Choice Organic Fudge Bars, Kaurina's Kulfi Bars, Keto Pint Sea Salt Caramel Ice Cream Bars, and Kirkland Ice Cream Bars. Whether you are looking for overall value, exotic flavors, or even keto-friendly ice cream bars, Costco has you covered.
Ready to learn more about these top ice cream bars at Costco? Let's dig in!
Disclaimer: product availability at Costco varies per location and region. Always be sure to call your local warehouse or call Costco Customer Service – Membership & Warehouse at 1-800-774-2678. Having the product item number can speed up the process when calling customer service.
Top 5 Ice Cream Bars at Costco
1. IMEI Brown Sugar Boba Ice Milk Bars
If you've ever had boba tea, you're probably familiar with how creamy and sweet the beverages are. Well, meet the sweet beverage in ice cream form! This bar is soft, creamy, and sweet. If you have a sweet tooth, you will likely enjoy these bars.
At $13.79 per box, these bars are the priciest ones on our list. Each bar comes out to around $1.14, which is still a good deal.
Product Number: 1480344
Price: $13.79
Size: 12 bars – 33.86 oz/960g package
Calories: 160
Total Carbs: 27g
Total Sugars: 17g (Includes 16g Added Sugars)
2. Healthy Choice Organic Fudge Bars
If you're a chocolate lover, these fudge bars will definitely hit the spot! Chocolatey and creamy as can be, these bars are low fat and are only 100 calories! All ingredients used in these bars are organic, from the milk to sugar, whey, and vanilla extract.
The package includes 18 bars, which is a phenomenal deal for less than $11 per box. We're talking 61 cents per bar!
Product Number: 1053793
Price: $10.89
Size: 18 bars – 54 fl. oz/1.6L
Calories: 100
Total Carbs: 19g
Total Sugars: 14g (Includes 8g Added Sugars)
3. Kaurina's Kulfi Bars
These bars are a true middle eastern exotic treat. Each package comes with 3 flavors: pistachio almond, mango, and malai cardamom cream.
At 80 calories each, Kulfi bars are nearly guilt-free. Also, each bar only has 5g of added sugars, which is far less than other ice cream bars we've seen.
These bars contain no eggs and are certified gluten-free.
Product Number: 688231
Price: $8.69
Size: 12 snack size bars – 19.2 oz/544g
Calories: 80
Total Carbs: 10g
Total Sugars: 7g (Includes 5g Added Sugars)
4. Keto Pint Sea Salt Caramel Ice Cream Bars
With only 2 gram of net carbs and no added sugar, these bars are truly a perfect treat for those on the keto diet.
These bars are also gluten-free and soy-free.
The only thing we are not crazy about is the high saturated fat content. At 11 grams per bar, or 55% of the recommended daily value, you should only have these bars every now and again. The high fat content is encouraged on the keto diet but might not work well for some folks. If you're wondering why these are so high in fat, this is due to presence of cream, coconut oil, MCT oil, and egg yolk.
Product Number: 1385784
Price: $11.99
Size: 12 bars – 36 fl oz./1068 mL
Calories: 180
Total Carbs: 12g (2 net carbs)
Total Sugars: 1g (Includes 0g Added Sugars; 8g Sugar Alcohol)
5. Kirkland Ice Cream Bars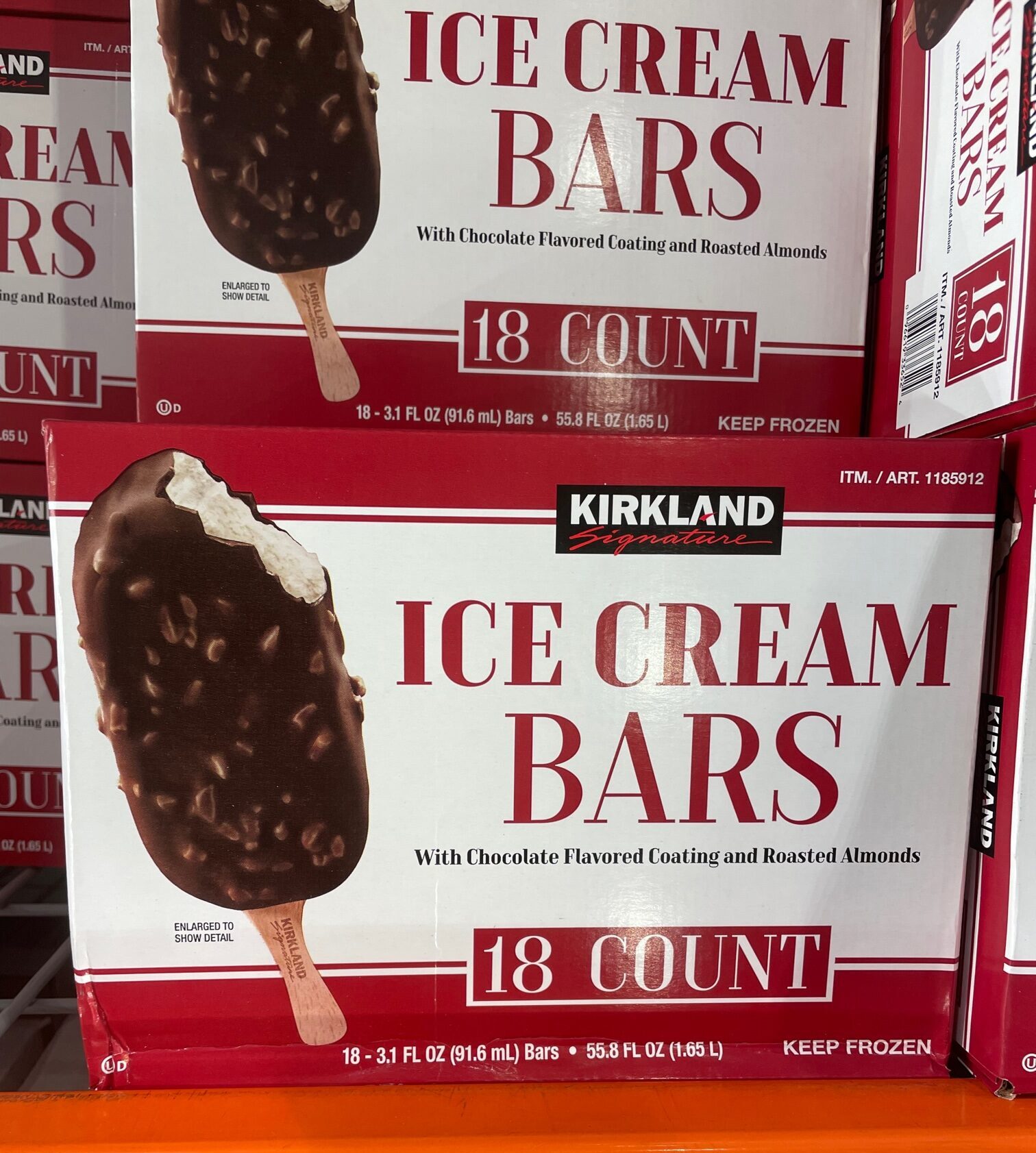 These look like the quintessential Haagen Dazs, Dove, or Magnum ice cream bars.
Each bar is made of vanilla ice cream enrobed in a chocolate coating and roasted almonds. These are the perfect treat while crashing in front of the TV, on a hot summer day, or really – just about any time.
Each box includes 18 bars and costs less than $10! At 55 cents (yes, 55 cents!) per bar, you really can't go wrong. Stock up on these to have when you need a treat, or for your next BBQ or get-together.
Product Number: 1185912
Price: $9.99
Size: 18 bars – 55.8 fl oz/1.65L
Calories: 280
Total Carbs: 22g
Total Sugars: 20g (Includes 16g Added Sugars)
Related Guides