Peppermint tea is healthy, refreshing, and a remedy for ailments your body can experience. It's a naturally caffeine free beverage and can be a great alternative for those who may be sensitive to caffeine. As a stomach elixir, it can help with gas, bloating, constipation, and aids in overall digestion. It's a very soothing drink and seems to bring on relief from stress, just from inhaling its potent aromas. 
There are many brands of peppermint tea, and the tea can be packaged as loose leaf, in tea bags or pyramids. Some of the top brands include Twinings, Bigelow, Celestial Seasonings and, my personal favorite, Yogi. These are some of the more commercially produced brands, and are different from smaller-batch brands like Tea Pigs, Harney & Sons, and Davidson's.
In this article, we'll take a look at the differences in peppermint tea brands. We'll also examine why there is such a debate about using bagged tea versus loose leaf tea. There are many health benefits of peppermint tea we'll talk about, and how to make the perfect "cuppa." Let's get started!
The great tea debate – Loose leaf or Bag?
Literally, if you were to stop 10 people on the street and ask them the best way for tea to be packaged, four will say loose leaf, and four will say bagged. The last two won't care and would rather have coffee. There are a lot of pros and cons to both bagged tea and loose leaf, so let's take a look at each. 
Tea bags
Pros
Convenience 

Easy to buy

Easy to use

Easy to toss
Cons
Low quality 

Leftover production dust in the tea

Too small to allow for tea leaves to "unfurl"

Very little essential oils or aromas 

More tannins are released when brewing leading to bitterness

Some bags have chemicals which can leak into your tea when brewed

Not a cheaper price

Contrary to popular belief, tea in bags, at a cost per cup, are not less expensive than loose leaf teas

One brew is all you can do (more on this later)

Lack of freshness

Does not stay fresh long, sometimes losing most flavor before manufacturer's expiration date
Loose leaf tea
Pros
High Quality 

Whole leaf tea allows the full flavor profile to be released in brewing

One single type of tea, and not dust or particles from other tea leaves

Essential oils and aromas are maintained

No bags or metal staples = no chemicals released in your brewed tea

Cost

The average cost per cup of bagged tea is between 20-40 cents. The average cost of a high quality, premium loose leaf tea is between 25-40 cents, and this includes artisan-crafted teas. It's the initial investment which scares most consumers away, as you usually will buy higher-quality loose leaf teas by the pound. When you consider shelf life and taste quality, that investment seems worth it. 

High freshness and shelf life

Since loose leaf tea is quickly harvested, packed, sealed, and delivered to market, the freshness remains. Unlike bagged tea which can sit on shelves for weeks before delivery to stores.

Brew more than two

Loose leaf tea allows for multiple steeps, sometimes as many as 6-7 per serving! This reduces the cost per cup, and also gives you different flavor profiles, as the flavor notes of the tea will change 
Cons
Lack of Convenience

More difficult to brew, as you need a steeper with a strainer

The water-to-tea ratio needs to be precise

Harder to dispose of, you have to clean out the strainer

Harder to find in general grocery stores, at least it's harder to find high-quality loose leaf teas
Brands of bagged teas
Now, let's look at some brands of bagged tea, what ingredients are in the teas, and the nutritional value. 
1. Twinings of London Pure Peppermint Herbal Tea Bags
With a history of over 300 years in the business, Twinings Tea is one of the original purveyors of bagged tea. They still sell teas from their original storefront in The Strand, London!
Ingredients: Peppermint
Nutrition facts (per 6 oz of brewed tea):
Calories- 2

Total Carbs- 0.7 g
2. Bigelow Peppermint Herbal Tea Bags
Bigelow Tea has been packaging herbal teas since 1945. Gluten-free, calorie-free and Kosher, they are a Certified B Corporation, meaning they meet the high standards of social and environmental performance, transparency and accountability. 
Ingredients: Peppermint leaves
Nutrition facts (per 6 oz of brewed tea):
3. Celestial Seasonings Tea Herb Peppermint
Started in 1969 in Colorado, the Celestial Seasonings brand had humble beginnings with wild herbs being handpicked to make tea. Since 1972, the Celestial Seasonings tea brand has been providing the best selling specialty tea of all time – Sleepytime. 
Ingredients: Peppermint 
Nutrition facts (per 6 oz of brewed tea):
4. 365 by Whole Foods Market, Tea Peppermint Organic
Certified organic and Non-GMO, the 365 by Whole Foods brand of peppermint tea is packaged differently than most teas. There are multiple tea satchels put together and wrapped in plastic, they are not individually wrapped. This can contribute to the tea bags losing their fresh quality over a short period of time. 
Ingredients: Organic Peppermint 
Nutrition facts (per 6 oz of brewed tea):
5. Teavana White Chocolate Peppermint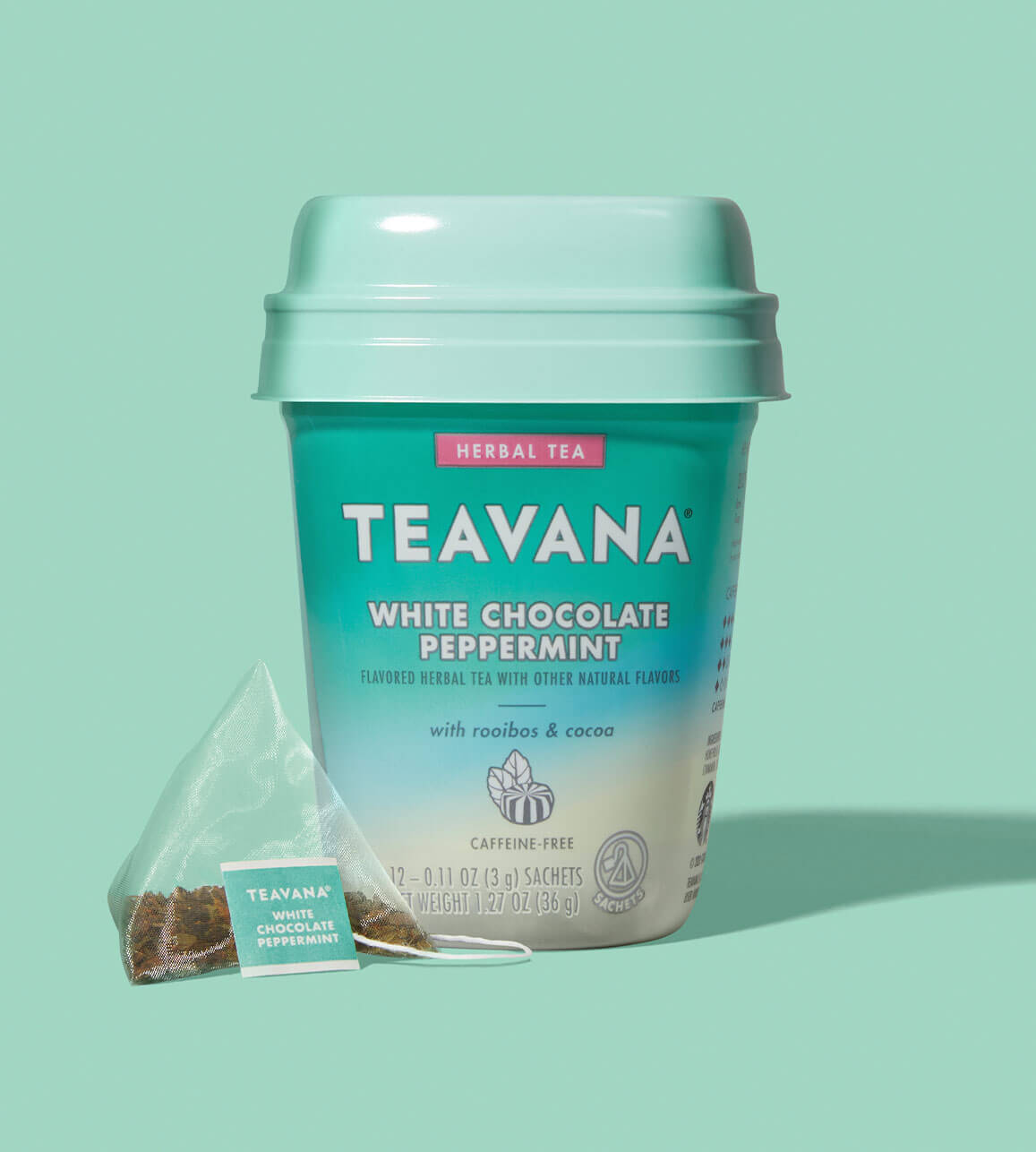 Creamy white chocolate and cool peppermint make this Teavana brand a delightful hot tea to enjoy on a chilly night. 
Ingredients: 
Cocoa

peels

Rooibos

Peppermint

Honeybush

Natural flavors

Chicory root

Cinnamon

Licorice root

Spearmint 
Nutrition facts (per 6 oz of brewed tea):
6. Yogi Tea – Purely Peppermint
Yogi Teas have been packaged for more than 30 years, using the ancient holistic philosophy of Ayurveda. This philosophy emphasizes good health through prevention and treatment of illness through different lifestyle practices, including meditation, yoga and dietary focus. The ritual of brewing and drinking herbal teas is both relaxing and meditative, which contributes to the overall benefits from tea. 
Ingredients: 
Organic Peppermint Leaf – 1500 mg per tea bag
Nutrition facts (per 8 oz of brewed tea):
Health benefits of peppermint tea
There have been numerous studies of the health benefits of peppermint tea, including working as a muscle relaxant, providing antimicrobial functions, being an analgesic, and aiding the digestive system. 
Peppermint tea contains naturally occurring menthol. This ingredient is a known muscle relaxant and helps by being antispasmodic in preventing muscles from contracting.
Having antibacterial and antiviral properties, peppermint may be helpful in keeping sinuses cleared, which can keep allergies from flaring up and prevent the occurrences of the common cold. 
Herbal mint tea has been studied to determine its effects as a pain reliever. The medicinal properties of the mint has been shown to work as effectively as some synthetic drugs. 
One of the main benefits of peppermint is the positive effect it has on the digestive system. People who deal with irritable bowel syndrome (IBS) and small intestinal bacterial overgrowth (SIBO) have indicated symptom relief when drinking peppermint tea. 
Beneficial and medicinal brands of peppermint tea
The founders of Teapigs worked at the Tetley Tea company before they set out to bring quality tea to tea lovers and keep their focus on their products, their people, being sustainable, and contributing back to their community. They operate out of Brooklyn and have been certified as a B Corporation, keeping care for people and concern for the environment equally important when making a profit. 
Ingredients: 
Licorice Root

Peppermint leaves
Nutrition facts (per 8 oz of brewed tea):
8. The Tea Spot Peppermint Tea
The Tea Spot was founded by cancer fighter, and the author of Cancer Hates Tea, Maria Uspenski, in 2004. They are based in Colorado and are also a certified B Corporation. Uspenski is a mechanical engineer and has designed Steepware, a line of teaware which helps loose leaf tea become more modern and convenient to be brewed. 
Ingredients: 
Nutrition facts (per 8 oz of brewed tea):
Heather's Tea was founded in 2001 by Heather Van Vorous, an author and IBS sufferer. Looking to educate, support and help those also afflicted by IBS, the company is helping people better manage their symptoms of IBS through lifestyle changes, including drinking quality teas. 
Ingredients: 
Organic peppermint leaf (Mentha piperita)
Naturally caffeine-free, gluten-free, organic, and kosher, Heather's puts their tea leaves in vegan compostable biodegradable plant fiber tea bags. 
Natural and wild-growing peppermint provides this loose leaf tea with natural oils, full and minty aromas, and many health benefits. Free from any pesticides or flavorings, the cool and refreshing flavor is incomparable to other peppermint tea brands. 
Ingredients: 
Pure peppermint large cut leaves
Nutrition facts (per 8 oz of brewed tea):
Final Thoughts
Peppermint tea is one of the best flavors and most medicinal teas available, in both bagged teas and loose leaf. There are many commercial brands available, which do offer a fair quality of tea, with both pros and cons to their use. As loose leaf teas have better quality, freshness, and provide more health benefits, opt for those instead of the bagged versions, and enjoy bolder flavors and aromas. 
Related Questions
What is the best way to brew tea?
There are classes given on how to properly brew tea. For beginners, it's pretty simple. Boil water using an electric kettle or teapot, no microwaves, please. Put your tea in a cup, and once the water has boiled, pour this slowly over the tea. Steep for 5 minutes. Strain any tea solids and enjoy!
What is the difference between peppermint and spearmint tea?
Peppermint contains a large amount of menthol, at 40%. Spearmint contains just 0.5%. Peppermint is a more pungent variety of mint, sometimes even considered spicy. Spearmint is a bit sweeter, because it contains the carvone compound. 
What is peppermint extract?
Peppermint extract is made from the essential oil of peppermint and a "medium," usually alcohol. This alcohol helps keep the flavor strong. Peppermint oil has a much more concentrated and intense flavor than extract does, so use discretion when using it for medicinal purposes, as it can cause a skin rash if left in contact with skin too long. 
Related Guides