Whether you are sweating it out at the gym, or you are planning to make a large purchase to your home gym, figuring out the best, high-quality workout equipment can feel a little confusing. With so many different machines and so many different brands, how do we know which is better for us and what we are hoping to get out of our workout? For those who are comparing cardio equipment, the StairMaster and the treadmill are the popular kids on the block, but what is a better option if you had to choose between the two?
The treadmill is more versatile, low impact, and is better suited for high intensity interval (HIIT) workouts. The StairMaster is better for bodybuilding and activates muscles in your core and lower body. Both the treadmill and StairMaster have benefits for your workout and can be used to help improve your cardiovascular fitness or assist with weight loss.
Still feeling a little confused on what machine is better and why? Let's look at some of the pros and cons of both workout equipment, calories burned on average, what workouts they are best for, best brands, and more common questions consumers have.
StairMaster Pros + Cons
There are pros and cons to all cardio equipment, but most do the trick when the goal is to increase cardiovascular fitness. Let's look in-depth at StairMaster machines and some of their pros and cons for those looking to compare equipment.
If you aren't familiar, these are the cardio machines you find at most gyms that are essentially a never-ending escalator that does wonders for your glutes, thighs, and hamstrings. These machines have many benefits that include helping to improve cardiovascular fitness and increase muscle mass, easy heart rate monitoring, low impact for joint health, and can work well with interval training.
Unfortunately, StairMaster machines typically limit your workout to lower body and can be challenging for those with back issues due to the incline positioning. StairMaster machines can also be more monotonous than other cardio machines because they are limited to the types of exercise you can do on them and the variations.
| Pros of the StairMaster | Cons of the StairMaster |
| --- | --- |
| Improved cardiovascular fitness and increase muscle mass | Limited to lower body focus |
| Works well with interval training | Not well tolerated in those with back injuries |
| Low impact | Monotonous |
| Easy heart rate monitoring | Not a lot of room for variation |
Treadmill Pros + Cons
The treadmill is an all-star performer found at any and every gym. Perfect for those looking to incorporate more walking, jogging, sprinting, interval training, or anything in between. The beauty of a treadmill is it is more low impact than walking or jogging while outside on uneven or rough terrain. Of course, a gym membership, or purchasing a treadmill, will cost you money while going outside to walk or jog is free and includes fresh air and sunshine.
Treadmills can be incredibly convenient for those who don't feel like they have time or don't feel safe leaving the house to get in a workout. They offer various inclines to increase the challenge of your workout and mimic elevation to get your heart rate into the sweet spot, which you can monitor easily on your screen.
Like the StairMaster, treadmills emphasize the lower body versus the upper body. However, a treadmill is more versatile than a StairMaster in what you can do while on it. Because a StairMaster requires more balance, it's difficult to incorporate upper body exercises due to the risk of falling or injuring yourself. The treadmill is sturdy, stable, and allows you to easily incorporate arm exercises during your walk or interval training in a safer way.
| Pros of the Treadmill | Cons of the Treadmill |
| --- | --- |
| Improves cardiovascular fitness and increases muscle mass | Stronger lower body focus |
| Works well with interval training | Monotonous |
| Convenient and versatile | Costs money when you could do it outside for free |
| Low impact | |
| Easy heart rate monitoring | |
Calories Burned Comparison
For many, the right cardio machine is easy to use, versatile and burns the maximum number of calories. No one wants to work harder, just smarter, right?
The number of calories burned on the StairMaster versus the Treadmill will vary from person to person and depend on the type of exercise and resistance level or incline that is being used.
Estimating accurate calorie burn numbers for either is impossible as each person performing the workout will have different factors that affect their calorie burn level, such as their height, weight, gender, age, and type and intensity of the workout. Generally speaking, the higher the heart rate, the more calories burned during a workout.
For those on the StairMaster, the average calorie burn is somewhere between 180-260 calories per 30-minutes of exercise.
The average calorie burn for the treadmill is anywhere from 100 calories to 300 calories per 30-minutes of exercise. The calorie burn for the treadmill will vary more per person than the StairMaster as the type of exercise can vary from light to intense aerobic activity depending on the workout [1].
If performing a high-intensity workout, the Treadmill will most likely result in a higher number of calories burned because it will utilize more of the body to exert effort than the StairMaster which is more limiting to a single motion.
Although both options burn a good number of calories per 30-minute session, the most effective machine is going to be the one that is preferred by the user as this will guarantee a higher rate of consistency than choosing a machine they don't like.
| Calories burned per 30 minutes on StairMaster | Calories burned per 30 minutes on Treadmill |
| --- | --- |
| 180-260 calories | 100-300 calories |
Which is Better for Fat Loss?
If you are comparing equipment to determine what would work best for fat loss, the treadmill may be your answer. Although both can help with burning fat by getting your heart rate pumping and blasting those calories, the treadmill is more versatile and allows for more intense exercise and the opportunity for variations, including weights. The StairMaster, although a big calorie torcher, is limited to only a few variations and challenge levels that put it in second place.
Whether you are looking to burn fat around your midsection, your thighs, or anywhere in between, the treadmill is a smarter choice for fat loss overall. Unfortunately, research shows us we are unable to target specific problem areas for fat reduction, such as stubborn belly fat, but by increasing our fat burn overall we can see progress in most areas.
If you are looking to tackle stubborn belly fat with the StairMaster or treadmill, the best way is to target the underlying muscle. You can do exercises that target this area on either the StairMaster or Treadmill.
Regardless of which machine you choose, both will work your core during any type of exercise if you keep it engaged and have proper posture. You can increase your core challenge by incorporating variations such as bumping up the incline on the treadmill or increasing resistance on the StairMaster.
Final answer: treadmill.
Which is Better for Cardiovascular?
When it comes to a cardiovascular workout, the treadmill beats the StairMaster yet again, but not by much. Although both get your heart pumping, the treadmill allows more opportunity to focus on aerobic exercise than the StairMaster. From walking, jogging, sprinting, interval training, and more, you have a lot more space to work up your cardiovascular endurance than you would on a StairMaster.
If comparing simply walking on a treadmill versus walking on a StairMaster, you would torch more calories on the StairMaster and work up more of a sweat as you are using more muscles during this workout. But, as you begin to increase in intensity, that is where you are limited with the StairMaster.
If you are someone who prefers the StairMaster for their cardio exercise, it is a great cardiovascular workout and should not be discounted simply because the treadmill offers more opportunities to build up endurance. The best cardiovascular exercise for you is going to be the one you prefer and will find yourself wanting to do more often.
Final answer: treadmill.

Which is Better for High-Intensity Interval Training (HIIT)?
Not to favor the treadmill, but it also wins in the category of HIIT workouts. Again, because of its versatility, you have more opportunities to practice different types of HIIT exercises than a StairMaster. Although both allow for the opportunity to perform this style of workout, there are benefits and drawbacks to both.
For those who prefer the StairMaster, you can perform HIIT on these machines. However, it will be a little bit trickier, such as going up the steps as fast as you can and then resting on the way down. It's not as ideal to perform HIIT workouts on the StairMaster as it is not as stable and could result in a higher risk of injury. A treadmill is a more stable, flat surface.
A HIIT workout on a treadmill can be quick and effective and allows the opportunity to build yourself up to avoid injury. However, a treadmill HIIT workout is not for everyone. If you are someone who hates jogging, walking, or anything in between, you may consider the StairMaster for your HIIT workout.
You also don't necessarily need a treadmill to perform a HIIT workout. You can do many HIIT style workouts outside without the additional cost.
In the end, what is most effective comes down to what works best for you.
Final answer: treadmill.
Which is Better for Bodybuilding?
You're probably not considering a treadmill or StairMaster for body-building workouts, but you should. Even if your main goal is to bulk up, cardiovascular exercise is an important component. If you are working to increase muscle mass, specifically in your legs or glutes, the StairMaster may be a better option for you than just the treadmill.
A StairMaster requires balance for climbing which activates the muscles in your core and lower body. This type of activity gets your heart rate up to work your cardiovascular system, while also complimenting a muscle-building routine. While neither workout is especially helpful for building muscle in the upper body, you can still get a good lower body bulking workout in while incorporating some cardio all in one go.
Final answer: StairMaster.
Impact Comparison
For those who require low impact cardiovascular exercise, both the treadmill and the StairMaster are great options. However, if you are someone who has sensitive knees or ankles, you may consider opting for the treadmill.
The treadmill allows you to adjust the incline and pace for what is comfortable for your joints. Although the StairMaster allows you to adjust speed, it can be hard on some of the joints of the lower body, such as knees, ankles, and hips, due to the climbing motion of the stairs.
As you can see, both the treadmill and the StairMaster have pros and cons when it comes to what you are looking for in a workout. Whether you are trying to bulk up, burn fat, torch calories, or you just want to improve your cardiovascular fitness you won't go wrong with either choice.
Although one may beat out the other in some areas, the treadmill and StairMaster come in close in most categories overall and are great pieces of workout equipment to take advantage of when you hit the gym.
Final answer: treadmill.
Treadmill vs. StairMaster Cost Comparison
If you are considering purchasing your own treadmill or StairMaster, there are a few things to consider. Price differences, features, brand, and durability will likely play a role in your decision. Let's take a look at some of the top 3 treadmill and StairMaster brands to compare.
Top 3 Treadmills
For those running enthusiasts looking to get the most out of their treadmill workout, the Nordic Track Commercial 1750 is the one to beat. This machine is perfect for those to connect to different workouts and maximize their heart rate during exercise. Although it's a great machine, it is more expensive than others and contains many bells and whistles some runners might find unnecessary.
Price: $1,899 with free delivery or $49 a month with 0% financing for 39 months.
Features: 14-inch tilt and pivot HD touchscreen, new Active Pulse cardio cruise control to maintain your optimal heart rate zone, auto-adjusting speed decline and incline, iFIT live and on-demand worldwide workouts
Another great treadmill option is the SOLE F65 Folding Treadmill with Bluetooth capability. This machine is perfect for those with small spaces and is lower in price point than the Nordic Track with similar features.
Price: $1,399.99
Features: track speed, incline, time, distance, calories, pulse, and pace, comes with cooling fans and speed and incline controls on the armrests, runs up to six preset programs, 7.5-inch LCD and Bluetooth capability, users can track fitness info on the Sole app, safely locks into place when not in use.
For those looking for a budget-friendly, high-quality treadmill, the Pro-Form Carbon T7 treadmill is the one for you. Lowest in price point with access to hundreds of instructors led workouts, this treadmill is the one to beat. For those with small spaces, it can fold up for easy storage.
Price: $999 or $26 a month with 0% interest financing for 39 months
Features: iFIT trainers automatically adjust the treadmill for you, countless studio classes and outdoor workouts led by professional trainers, includes iFIT family membership for a full 30 days of streaming live and on-demand fitness
Top 3 StairMaster Machines
For those looking for a StairMaster to purchase, the StairMaster Stepmill SM3 is a great option for those looking for a hardcore workout. Unfortunately, a good workout comes with a high price tag. Despite the heft price, this machine is durable and comes with a 2-year manufacturer warranty, making it a perfect addition to your home gym.
Price: $4,299
Features: 6-step revolving staircase that can go from 26-162 steps per minute, easy to read LCD console that displays elapsed time, speed level, heart rate, calories burned, and floors completed, contact and telemetric heart rate monitor, 2-year manufacturer warranty.
For those looking for a budget-friendly StairMaster machine, consider the Bowflex M6 Max Trainer. Not only is this machine significantly lower than others of similar style, but it also takes up less space and includes many of the same features of a traditional StairMaster.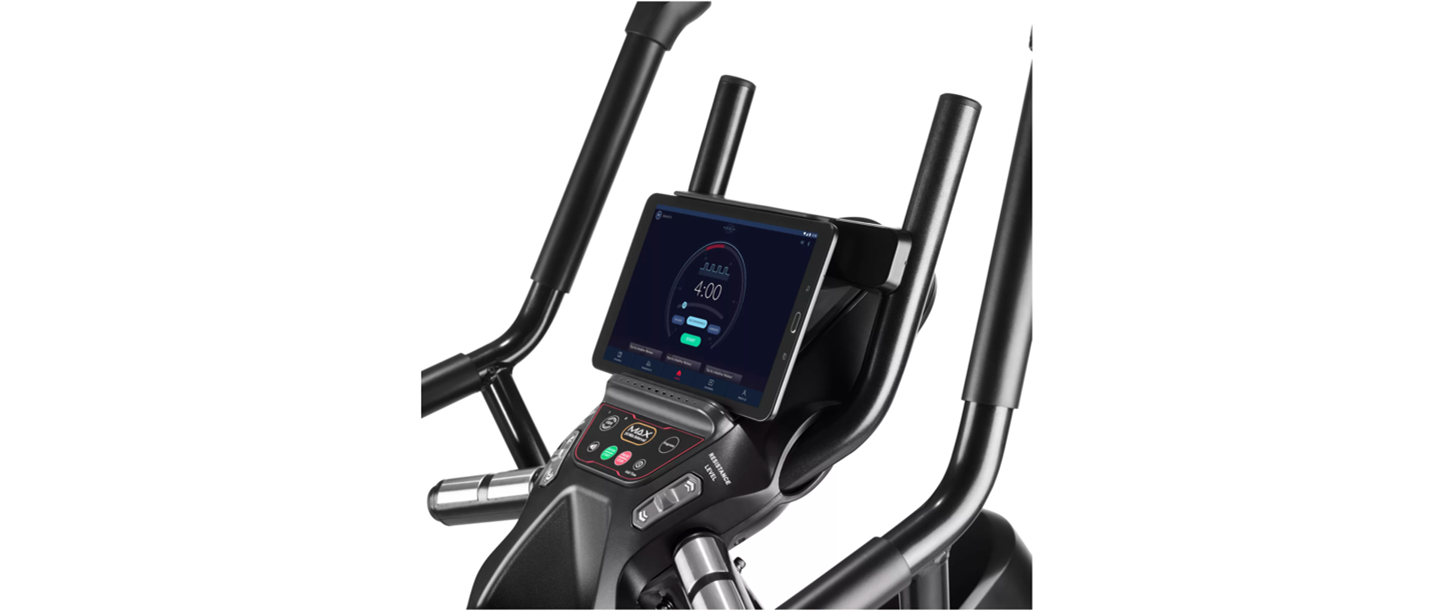 Price: $1,399.98
Features: Can include up to 2 user profiles, 16 levels of resistance, space-saver with easy-roll wheels for storage, full-body, low-impact elliptical motion with the calorie burn of a stair stepper, includes 1-year JRNY membership which includes personalized coaching and custom workouts, auto-adjusts time and intensity to meet your fitness level.
The MaxiClimber XL-2000 Hydraulic Resistance Vertical Climber is perfect for small space home gyms at a fraction of the cost of most StairMaster machines. This machine is perfect for those who want a good workout machine without all the bells and whistles.
Price: $419
Features: 12 resistance levels, lightweight aluminum mainframe, free fitness app included, mobile device holder.
Related Guides